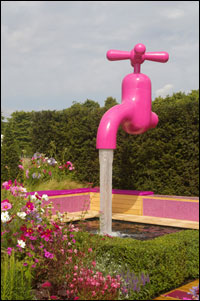 Jill Foxley and her award winning Pink Tap garden design are heading to the Creating Landscapes show.
The Pink Tap will be a fantastic meeting place at Capel Manor as there is seating around it where you can take a well earned rest after strolling along seeing the variety of stands.
The brilliant pink turns heads, and standing three metres high apparently only supported by its cascading water, you can watch as people scratch their heads and wonder if their eyes are deceiving them.
Jill, founder of garden design firm The Perfumed Garden, won a Silver Gilt medal for the Pink Tap at the RHS Hampton Court Flower show last year and it was the main feature for EcoBuild's Water Wise attraction in March.
And Jill's tap is being noted around the world, with it already ticked off by the Giant Tap Spotters' Club and placed on a Google map.
So look out for a chance to go tap spotting yourself this October at Capel Manor.