Creating Landscapes is the new trade show for the landscaping and gardening industry.
Practitioners are the most powerful people working within any industry. They are the drivers of demand for products and equipment and are the only ones best placed to provide an honest critique.
Creating Landscapes is the ONLY industry event that is designed to cater for the needs of the practitioner, providing that connection brokerage between them and product and equipment suppliers or manufacturers.
- Phil Voice
For horticultural and landscape practitioners
This new trade show is brought to you by me, Phil Voice, owner of the Creating Landscapes Trade Show, Landscape Juice and the Landscape Juice Network alongside a team covering exhibition sales, event management and digital publishing.
The show will taking place on October 25 and 26, 2011 at the 30 acre site of Capel Manor College, Enfield, Middlesex, just off Junction 25 of the M25.
This show is for exhibitors that supply businesses involved in:
Landscape design, planning, hard landscaping, soft landscaping, horticulture, machinery, equipment, education and ongoing maintenance.
The event will translate the vibrant and exciting 'juice' we have been sharing on the network for the last five years into something physical.
We are looking forward to meeting and getting to know the many contributors and members of Landscape Juice and spreading the juice to new organisations and practitioners.
Headline sponsor
Marshalls PLC have joined the show as headline sponsor. To hear why they are committed and so passionate about the event do take a moment and listen to Chris Harrop, Group Marketing Director, comment about the Creating Landscapes Show.
Who are the visitors?
Visitors will come from the design, planning, hard landscaping, soft landscaping, horticulture and on-going maintenance sectors of the landscape industry.
Visitors will be able to use this event to purchase products and services from a wide range of suppliers, share and broaden their knowledge base and see the latest products designs and innovations in action. This trade show is FREE to visit.
Who should exhibit at Creating Landscapes?
Any company supplying products and services to the horticultural and landscape practitioner.
Use this opportunity to meet your customers in an intimate environment, introduce them to your latest products and services and take orders.
The venue, Capel Manor College
This extensive venue is just five minutes from junction 25 of the M25.
Not only is it in a location accessible from large parts of the UK, it also has ample on-site parking and features a broad selection of show gardens to enable visitors to enhance their visit and be inspired.
Capel Manor is recognised as an educational centre of excellence.
How is Creating Landscapes promoted and how will you benefit?
A rigorous and extensive campaign will target visitors by direct mail, email, advertising, and PR. Not only via Landscapes Juice and its growing membership, now just short of 2,000 but via our headline sponsor Marshalls through their extensive list of more than 15,000 landscape and garden businesses.
All exhibitors once booked will benefit from a free entry including a website link on the official show website, a free entry in the official show catalogue, access to free PR services, access to pre‐show targeted mailing to promote specific products and services, and unlimited tickets to invite your customers.
This campaign will be complemented by regular updates on the Landscape Juice Network.
How much does it cost?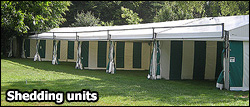 Inside and outside exhibition space is all available on a sliding scale. The larger the stand space the lower the price per m² rate charged.
This sliding scale will assist companies needing large stands to promote their products and services cost effectively.
We have a variety of packages from open space, to outside 'shedding' units and indoor exhibition shell scheme.
Outside exhibition space ranges from a minimum of £25 per m² + vat for stands larger than 200m² to that of £85 per m² + vat for stands ranging from 9 to 19m².
A simple 9m² (3m x 3m) shedding unit will cost £945 + vat.
There is also a free demonstration area available for all contracted exhibitors that need to be able to show their machinery and products 'in action'.
This area is limited, so contact Stephen Ingram as soon as you can to secure your stand. Do contact us so we can discuss the options available and find something to suit your budget.
How to book a stand?
Contact Stephen Ingram on Tel: 01963 44 1234
Or email stephen.ingram@catalystevents.co.uk he will be pleased to discuss your individual requirements.
Related: Press and bloggers' page for Creating Landscapes Trade Show